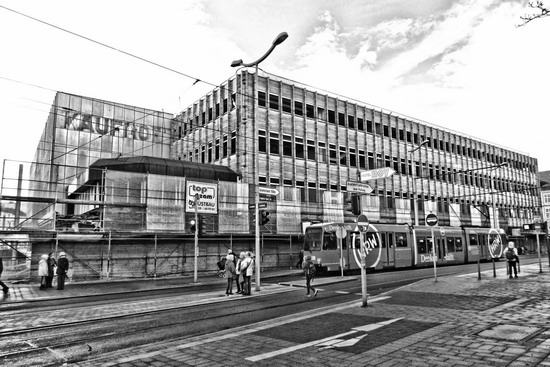 From late October until the end of January, the inner city of Mülheim witnessed the biggest building destruction since at least a decade when the Kaufhof department store was torn down. The Kaufhof (literally Sale Yard) was originally built in 1953, but the store had existed before in various other locations before it got its permanent home for almost 60 years. It once was the biggest all-in-one department store in the city, but its star was beginning to fade in the 1970s when the shopping mall at the other end of the inner city was constructed. Its final demise was not all the fault of the local situation, but of company problems when the Kaufhof finally closed in Summer 2010. A whole six years of intrigue about ownership, selling, politics and other unbelievableness ensuded until in early 2016 it was announced that the building would be demolished later that year. Nobody really believed that it would finally happen, but in late October it finally started.
I missed the demolition of the car park because the first time I went over to take photos was on November 23, but from then on I somewhat regularly managed to take photos and even some video. The demolition was pretty well covered in the local press and many people have already shown lots of photos, but those are my shots from my own perspective and I think there's no better place than making this part of the City Views. This is only a selection of an even bigger series of photos which I will post perhaps later as a complete gallery and I processed every image in black and white and colour so you can click on the link below to switch. Each photo is also accompanied with a Google Maps marker and the original date I shot the photo to avoid any confusion.
This first shot from November 23 shows that the East end of the building facing the inner city was still looking like its old self and it actually remained like that for a long time because the demolition started on the other side.
« Colour Version » | « Google Maps » | Date: 23.11.2016
Comments off